Private. Branded. Professional.

Customized with the features you want.
A client portal is a secure gateway to your organization's networks and files. The client only sees content that he has been granted permission to see. A portal may be accessed via a Web browser any time of the day or night, giving clients the ability to securely log in and access information, files, and services at their convenience. The client portal integrates secure file sharing, private messaging, and data collection.
How Do Client Portals Work?
Your portal administrator logs into the secure client portal and shares a file or group of files with a client. The client receives an email notification with instructions on how to access the files. The client follows the link to log in to the portal. Inside the portal, the client reads the message, downloads files, or fills out forms as instructed. The administrator receives an email notification when the client completes the process.
Simplify with a Paperless Workflow
Save time and money. Be amazingly productive.
Simplify sending and receiving client information. Automate notifications to the right people.
SSL protects all your documents in transit. Add form encryption, HIPAA compliance, or GDPR compliance.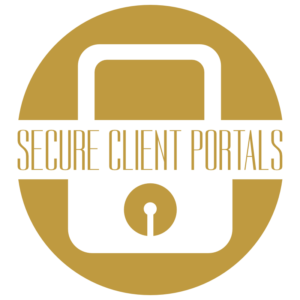 Improved Customer Service
Provide a professional, branded communications center for your clients with a chained record of messages. Bypass email spam filters and email file size limits.
Spend less time on tasks repetitive tasks that can be automated. Quickly set page, document, and file permissions per client.
Centralize your data collection. Streamline the process with digital file sharing and storage.

Increased
Security &
Compliance
SSL protects all your documents in transit. Additional security options available: